Former Buffalo Bill veteran linebacker Brandon Spikes has resigned with the team after rookie linebacker Re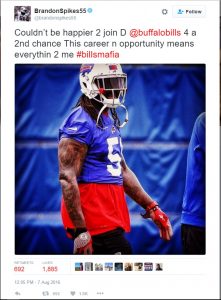 ggie Ragland went down with an knee injury.  Spikes last played in Buffalo in 2014 and was cut last year by the New England Patriots.
"I'm not real sure," Head Coach Rex Ryan said about Ragland. "I guess I was just so hopeful there's not going to be ligament things. My understanding is that as you get going, your leg is so tight, they'll fight it. You don't really get a true look of that. So as we mentioned, we got to wait for that swelling to go down.  I know every Bills fan out there is hoping for the best, and that's certainly what we're doing, but there is concern."
The Bills kick off the preseason against the Indianapolis Colts this Saturday.  Plenty of great seats and affordable tickets are still available so be sure to grab yours today and help cheer on your Buffalo Bills!!!